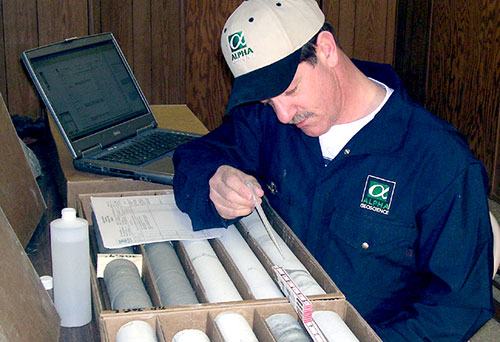 Please submit your résumé to careers@alphageoscience.com to be considered for career opportunities.
---
Current Position Available
---
Geologist
November 2, 2022
Alpha Geoscience, a geological consulting firm in upstate New York, is seeking a geologist with 2-5 years of experience, with a Bachelor of Science Degree, or higher, in Geology.   
Experience or educational background in stratigraphy, structural geology, hydrogeology, petrology, and geological field methods is required. A detail-oriented individual with interest or experience in rock core logging and familiarity with drilling oversight is preferred.   
Candidate is expected to conduct field and office work related to mining, water supply, and environmental projects.  Travel is required, as needed, to support project assignments. 
Key responsibilities may include:
Oversee soil borings and groundwater monitoring well installations, collect soil, groundwater, surface water, sediment, air, and soil gas samples, collect data in complex field situations with supervision, and document field activities
Perform other field exploration, inspection, testing, and analyses using equipment and instrumentation
Prepare components of site investigation reports including work plans, data summaries, calculations, tables, figures, charts, drawings and report text
Assist Project Managers and project teams, ensuring effective client communication and relations
Organize field work, assign tasks, and work with other staff specialists and contractors to complete assignments
Follow company safety policies and procedures, site safety standards, and permit requirements
Physical Demands:
Ability to remain on feet for extended periods of time either stationary or walking
Field activities may require working in unfavorable weather conditions, including heat and cold.
Ability to lift 50 pounds.
Other Skills/Qualifications:
Strong written and effective spoken communication skills are required.
Competence in MS Word, Excel and PowerPoint is also required.
Skill with drawing programs such as Illustrator or Canvas is preferred
Experience with AutoCAD, GIS (ArcGIS), and MS Access, or similar database, is preferred.
40-hour OSHA HAZWOPER and/or MSHA New Miner training is a plus.
About Alpha:
Alpha has been providing geological services since 1992.  From our base in upstate New York, we provide services to our clients throughout New York and North America.  The types of projects include, but are not limited to, water supply investigation and development; surface water and ground water resources evaluation; mineral and precious metal investigation and development; ground water, surface water and environmental impact assessments for mines, developments and other critical facilities; permitting support for mines, developments, water supplies and other critical facilities; subsurface investigation of soil, rock and ground water for geotechnical investigation; evaluation of environmental and property damage claims; assessments of environmental contamination; subsurface investigation and remediation of petroleum and hazardous waste contamination; documentation of site history for environmental damage claims and principal responsible party litigation; validation of chemical data; and environmental site assessments for property transfers.
---
Please submit your résumé to careers@alphageoscience.com to be considered for career opportunities.